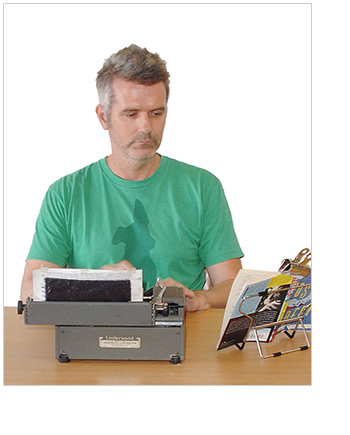 Tim Youd Retypes
The Sound and the Fury
As part of his ongoing, critically acclaimed undertaking to retype 100 classic novels,
artist Tim Youd will perform a retyping
of William Faulkner's The Sound and the
Fury at Rowan Oak.
June 2–12, 2014
Monday–Saturday, 10:00 a.m.–6:00 p.m.
and Sunday 1–6:00 p.m.
ADMISSION TO PERFORMANCE IS FREE
WITH ROWAN OAK ADMISSION
Artist's Reception at Rowan Oak:
Thursday, June 12, 2014
6:00– 8:00 p.m.
ADMISSION TO MINT JULEP RECEPTION IS FREE
Follow the UM Museum on facebook and twitter.
UNIVERSITY AVE. & 5TH ST., OXFORD, MS
Tues.–Sat. 10 a.m.–6 p.m.
Closed every Sunday and Monday along with most University Holidays.